The Commercialisation and Linkages Unit of the CUCRID is the arm responsible for enabling research outputs to go beyond discoveries to becoming usable products. The process involves making meaningful partnerships that will help enable the process. Hence, the division serves as an intermediary between research results and the industry and markets, where they will be enabled and made available to end users.
The division, therefore, manages the following relationships:
Relationships with the industry (organisations, investors, policy makers etc.);
Relationships with knowledge creators (product developers, inventors, innovators etc.); and
Inter-relationships between both groups.
To explore the commercial viability of research outputs and enable them to become products that will serve humanity (end users).
This mission is in line with our vision as a University, which is to raise a new generation of leaders. Our approach is not to follow the norm, but to create solutions that move Africa and the world forward; hence, part of our philosophy is to go from Mathematics to Life-matics.
We consider it an obligation to protect and commercialise discoveries made in Covenant University. Our researchers, inventors and developers are, therefore, encouraged to create solutions and ensure their research output serves humanity. If they are solutions to problems, then they will serve humanity; and to ensure the service to humanity is sustainable, we explore and harness the commercial potentials available in such solutions.
This document, thus, serves as a guide and policy for researchers, inventors, investors or licensees, who desire to take research outcomes beyond the shelf.
Covenant University's Step to Commercialisation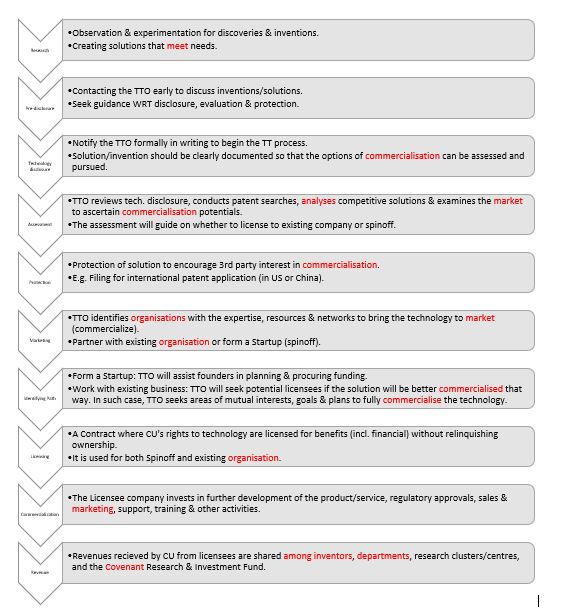 These steps are expected to educate and guide researchers, inventors, investors, as well as the various stakeholders involved and interested in taking research beyond the shelf through commercialisation. More so, it is designed to enable stakeholders create values, opportunities and wealth from Intellectual Property (IP) as well as impact the world. In order to incentivise the efforts, we ensure that all market and commercially-viable solutions fulfill their potentials.
After protecting your Intellectual Property (IP), as indicated in the commercialisation process, the CUCRID commercialisation unit will assist in assessing the best path to engage the IP; whether through licensing to an existing organisation or spinning off a Startup company. The path followed will determine how benefits will be shared.